professional college essay writersterm paper writinguk essay

Specializes in:
Women's health related symptoms
Rehabilitation exercise/nutritional therapy combined classes that includes:Ai??Pain management, providing exercise and diet that may help reduce overall Inflammation that includes pain and stiffness
Class group of 4 in Susie's private studioAi??and cost 5 for ai??i??100
Class group of 12 in different venues
1. Over 50′ classes (Classes are general as well as working with clients with specific symptoms)
Focus on:Ai??Diet :sugar, refined carbohydrates and how it may all be related to diabetes as well as bone health, arthritis, high cholesterol and heart disease.
Classes offer: nutritional therapy/chartered physiotherapy in groups of 4 people for general health and for clients with specific symptoms such as: Bone Health (osteoporosis, osteopenia/ prevention, for example if it is hereditary) .
Group Exercise Classes offer groups of 4 as well as larger groups of 12 at different locations and venues please contact us for information.
During the course of 5 weeks you will learn:Ai??
What is Osteoporosis?
What are the Symptoms?
What are the Causes?
How is it Diagnosed?
Other Risk F Cost of crestor rosuvastatin actors,
How is it Prevented?
Treatment that includes: Specific Exercises and Nutrition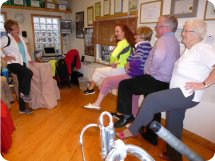 2. Joint Health Class-focus on:
Keeping joints as flexible as possible preventing damage that maybe caused by inactivity.
Exercises and stretches to do at home maintaining joint health.
Nutritional advice: Specific diets that reduce symptoms of stiffness/painAi??food that can help repair the body for optimum health.
3. General Exercise class offers Nutritional Therapy/Chartered Physiotherapy and includes a focus on:
Muscle Strength:

Ai??

For people with repetitive strain injury and how to deal with it when it is inflamed as well as building muscle strength/injury prevention/balance/posture.
Please note:Ai??All clients will be assessed before they join a class and GP referrals welcome.